Hello friends, welcome to my Hum Nutrition Skinny Bird Reviews.
I've been taking this product for about three weeks and I'm happy to say that I have enough data to be able to give you guys the FULL rundown.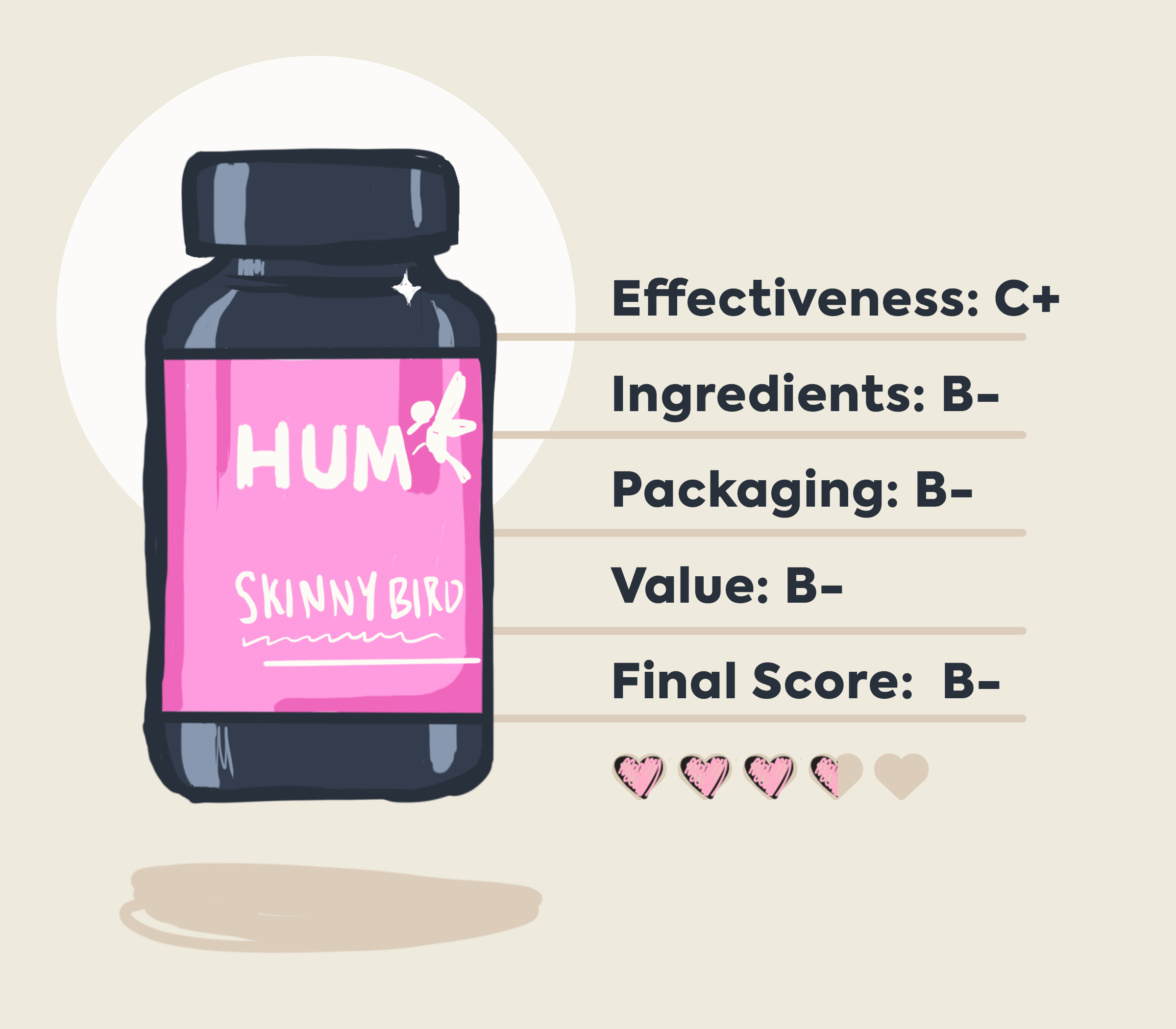 In this Hum Nutrition Skinny Bird reviews, I'll tell you a few very important things.
The most important being, what I'm doing this weekend with my boyfriend.
Just kidding. But I AM going to talk at length about that. LoL.
But no for Hum Skinny Bird, we're going to talk about, for the most part, if these little pills actually do turn you into a 'Skinny Bird'…
AKA does Hum Nutrition work?
Yeah. We'll go over it.
We're also going to talk extensively about the ingredients in this products.
How does it compare to some of the other fat burners I've reviewed?
Is it as good as my go-to Spring fat burner that I know works wonders?
You'll find out, sister.
We'll spend a brief few sentences ripping their packaging apart, and then wrap it up and get on with our lives.
I'll close by telling you if you should drop $40 bucks on Hum Nutrition Skinny Bird.
Sound good?
Of course it does. Let's do 'dis.
Skinny Bird. It reminds me of those ridiculous Skinny Girl bottles of liquor that you used to see back in 2007.
Actually they're probably still around, and you just don't see them as often anymore.
But you know what I mean.
Skinny Bird. Hum Nutrition.
Somebody over at Hum Nutrition must REALLY like humming birds.
But who doesn't?
They're so light and fun. Speaking of light.
Let's talk about this product.
Does Hum Nutrition Skinny Bird Actually Work?
When my sister first told me about 'Hum', I was skeptical.
And for good reason.
My sister is not very hardcore into her fitness.
She was in Sephora and literally stumbled on Hum Nutrition.
She asked if I had heard of it, since she knows I'm always babbling about these silly supplements.
I had not heard of it.
Come to realize, Hum Nutrition is going for some sort of hybrid between cosmetics and supplements.
But not really. They're actually just supplements, but that focus primarily on vitamins for skin, hair, and nail.
So nothing new there.
But an interesting concept that they're positioning themselves as a sort of 'internal' cosmetics company.
After digging a little more into Hum Nutrition, I was sort of delighted to see that they make a fat burner.
That's right.
They aren't 'above' selling weight loss- no matter how 'anti supplement company' they may seem.
So I bought some.
Here is what happened after taking Hum Nutrition Skinny Bird for three weeks since.
Nothing.
Like actually.
Eh.
Well.
You know what?
I THINK I have seen a slight decrease in my stress levels.
So that has been a welcome benefit.
But in terms of actual weight loss or fat loss?
Absolutely nada.
Hum Nutrition Skinny Bird might work for folks who have never taken a fat burner before, but as someone who has taken the MOST hardcore of fat loss products…this stuff just didn't have the horsepower under the hood to make an impact.
I think after the first week on Hum Nutrition Skinny Bird I was still hopeful…let's face it I wasn't seeing ANY results.
I was still eating my normal amounts…still feeling the same hungers at the same times…and well…there just wasn't much happening.
And the second week was much the same.
And the third.
Hum Nutrition Skinny Bird just didn't do anything in terms of weight loss or encouraging dietary / eating habit changes.
Maybe I should up the dosage…or maybe such a soft-core diet product will just never work on me.
However.
I still do think that Hum Nutrition Skinny Bird has reduced my stress levels a touch.
Maybe even more than a touch.
I have felt less anxious, and seemed to cope with opposition with more poise and fluidity than usual.
It's been an unanticipated but welcome side effect of Hum Nutrition Skinny Bird.
Let's look at the ingredients now.
What's in Hum Nutrition Skinny Bird?
Only a few things, so this section will be kept brief.
This is a stimulant-free fat burner- meaning there isn't any caffeine, no crazy designer-stimulants, and no banned substances.
(Would you expect there to be, in something called 'Hum Nutrition Skinny Bird')? LOL.
Here are the four ingredients in the Skinny Bird fat burner:
Chromium
Caralluma Fimbriata Extract
5-HTP
Green Tea
That's it.
That's it?
Yep.
Just four.
The rest of the pill contents is just rice flour.
Kind of funny.
But let's go over what the ingredients do in here:
Chromium.
Chromium is supposed to regulate blood sugar. I know that. This ingredient is used in many cardiovascular health and weight-management products because it is relatively well-studied and proven effective for blood sugar regulation.
Green Tea Extract
Green Tea is supposed to ramp up metabolism and burn fat, although the jury is out, as to if it actually works or simply acts as a diuretic (making you pee more and then look leaner).
5-HTP
This ingredient is more common in stress-relief or anti-anxiety supplements. It is supposed to help you feel calmer and less stressed. I usually don't see it in weight-loss supplements, so I'm not sure exactly why it is in this product…
Caralluma Fimbriata
The real 'feature' ingredient in this product is the Caralluma Fimbriata. This stuff is relatively new to the fat burner scene and is supposed to reduce appetite. However, according to our trusty friends at Wikipedia, regarding carlluma:
"A study published by the US NIH in 2015 showed the supplement to be well-tolerated, but to have no clinical effect compared to a placebo at the supposedly therapeutic dose of 1g daily".
So. Apparently it doesn't really do much.
And since chromium is such a 'soft-core' weight-loss ingredient…and since there's such a skimpy amount of green tea in here…
It's actually not much surprise that I wasn't losing any weight while taking the Hum Nutrition Skinny Bird fat burner.
But again, the 5-HTP did help reduce some stress levels.
But like…
Why would I spend another $40 just for the 5-HTP benefit though?
I probably wouldn't.
So let's briefly discuss the packaging…
But first, and as promised in the intro to this Hum Nutrition Skinny Bird review, you probably are curious to know what I'm doing this weekend with my boyfriend!
We are, drumroll, GOING TO HARRY POTTER WORLD AT UNIVERSAL!!
That's right! So PUMPED. LOl.
And I actually have to get ready so I'm going to make my Hum Nutrition Skinny Bird packaging section ridiculously brief.
Here goes.
Hum Nutrition Skinny Bird Packaging is Boring.
Yeah I said it.
Pink.
A plain black jar with a pink label with white fonts just isn't going to turn me on anymore.
How could it?
It's not very good looking.
Well.
No.
You know what?
It is good-looking…
It's just BORING.
Like B-list actors.
They look great.
There's nothing WRONG with how they look.
But they are missing that Ryan Gosling X-factor.
That George Clooney charm.
That Brad Pitt presence.
You know what I mean?
I think they need to find their X-factor..
Just put a picture of Brad Pitt on it.
And pay him a royalty.
There.
Hum Nutrition.
You just solved it.
I'll be here all week.
Lol.
Alright let's wrap this up…
Hum Nutrition Skinny Bird Review Summary
Effectiveness: C+
Ingredients: B-
Packaging: B-
Value: B-
Final Score: B-
The Bottom Line: So…for $40, I wasn't a fan of Hum Skinny Bird. ThereAs with all my reviews. I'm a jury of one. And a jury that is incredibly well-versed in the area of fat burning supplements. So. Maybe you will have results with it. Maybe not. Either way. Either way is fine.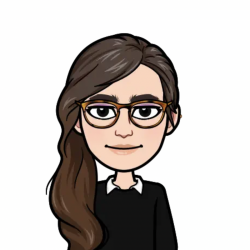 Latest posts by Allie Lewis
(see all)