One Sol pre workout had me feeling some kind of way, I'll tell you that much for free, as they say. (Wow, what an opening rhyme?!)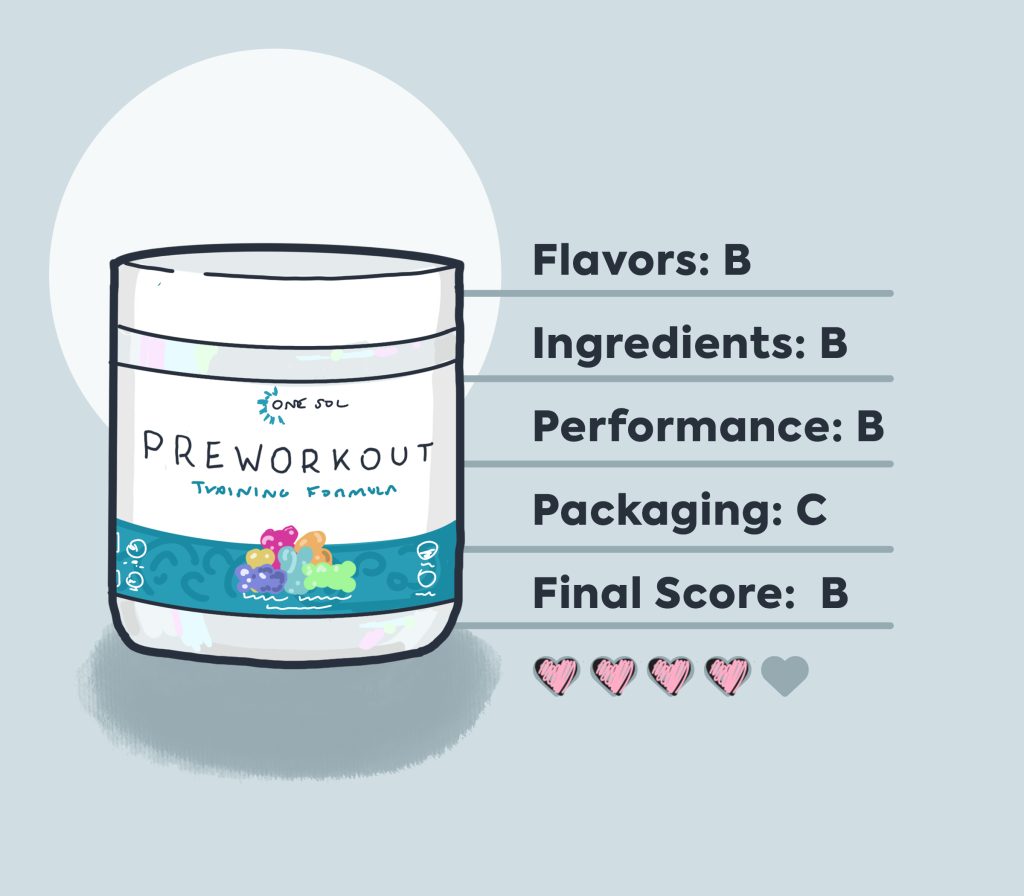 Today we are going to talk about this fancy pre workout from the 'One Sol' brand, which I'd literally never heard of until like two weeks ago.
Here's what you can expect in this energizing pre-workout review.
What You Can Expect in This One Sol Pre Workout Review
The first thing you guys are going to read about in this One Sol review is all about how I heard of this brand.
As you know from my other reviews, like my Wellious protein review from the other day, I like to discuss the brands that I review, and how I found them.
Once we get that out of the way, we're going to talk about flavor.
That's right, the taste is almost everything with these pre-workouts, and I got to sample every flavor they make.
So I'll be able to tell you what the best flavor of One Sol pre workout is.
After that, we'll talk performance.
Unlike protein powders, where it's hard to tell how they perform or not, these pre workouts are pretty easy to judge, based on the way they kick in for a workout.
We'll assign a performance score, and then discuss the ingredients.
This product has some familiar ingredients that I've seen in many pre workouts (I've legit reviewed hundreds of them).
The last two criteria for our One Sol pre workout review are the packaging, and value.
So discussing the looks of the label and jar, and then figuring out if this product is worth the cost.
If that sounds good to you, let's jump right into things.
How I Discovered One Sol
I'm pretty sure that just like Wellious, I found this pre workout on Amazon in the 'recommended product' section.
That means One Sol must be pretty sophisticated with their advertising because I wasn't even searching for them, yet they popped up.
The funny thing is – at first I confused this brand with Alani Nu.
The packaging, branding, and overall vibe is actually very, very similar to Alani, but more on that in a second.
Actually there isn't a whole lot more to say about how I discovered One Sol.
It seems like they have been around for a couple years, but I literally just discovered them on Amazon last week.
Is One Sol Knocking Off Alani Nu?
As I said before, this brand really sort of confuses me.
It seems like they are trying to knock-off Alani Nu with their overall messaging, and even their colors are the same.
I would guess that they are likely going to have some legal issues on the way, just given how similar they look, and feel with their branding.
After doing some digging, it seems like One Sol is actually part of the same company that owns Ambrosia – the maker of the 'Planta' protein line.
I actually reviewed Ambrosia Planta a few weeks ago, and thought it was alright, even though it was very expensive.
So yeah as far as I can tell, this brand is not part of Alani Nu, but rather part of Ambrosia.
That's where I'll leave it, but overall, not a good look (or idea, legally), to copy someone else to this extent, but, we'll see what happens.
Let's actually talk about the product now, shall we?
One Sol Pre Workout Taste and Flavoring
I'll start by saying that this One Sol pre workout actually tastes alright.
I've tried all the flavors, and I'll go into some more detail below, but as an over-arching statement, this pre workout does in fact have some decent flavors.
They are very sweet, but then again, that's just sort of how pre workouts are these days.
One Sol uses a lot of artificial sweeteners, which is again, pretty standard for the industry.
The texture was really pretty good on these, as all flavors mixed easily with a standard shaker bottle.
The one thing I noticed was that some flavors had a bit of a bitter aftertaste to them, which I could not place.
But let's talk about each flavor and drill down into that a little bit more.
What's the Best Flavor of One Sol Pre Workout?
I'll describe each flavor below, and then tell you which I liked the best:
Gummy Bear: This flavor tasted more like orange and citrus than anything, so I'm not sure which gummy bear flavor specifically they were going after with this one, but yeah it just tasted more like a sweet orange flavor than anything to my palette.
Fruit Punch: Not much to report here other than it being maybe a little bit overly sweet for my liking, but overall just think standard fruit punch. Tropical, fruity, and rather tasty.
Mango Guava: This was the one flavor that was a bit of a miss for me, which is disappointing because I am a massive guava fan. But yeah this fell short and was not nearly fruity enough. In fact this flavor had a bit of a bitter after-taste as well, which I didn't care for.
Strawberry Kiwi: I was not expecting to like this flavor, because I don't really care for kiwi much, but actually this one tasted like strawberry only for the most part, with maybe a little bit of lemon mixed in? Whatever it was, it was darn good. I took this one three times last week, and enjoyed it each time.
The bottom line is that the strawberry kiwi is surprisingly the best flavor of One Sol pre-workout.
I would stay away from the gummy bear flavor and definitely stay away from the mango guava flavor, but you will be satisfied with strawberry kiwi, or even the fruit punch.
Let's talk a little bit about performance now, and how this pre workout performs.
How Does One Sol Pre Workout Perform – I.e. is it Good?
One Sol pre workout performed very average for me this week.
I tried it for two different styles of workouts, so that I could get a good feel for how it works, and what it feels like.
Since I was comparing One Sol vs. Alani Nu earlier, I suppose that would be a good comparison for how the product works as well.
One Sol pre workout performed most closely to the Ghost Legend pre workout in my opinion.
It kicked a little harder than Alani Nu pre workout, meaning it gave me slightly more energy.
I think it might lack a little bit of the strength-boosting capability of Ghost, but it definitely gave me plenty of energy.
Is One Sol Pre Workout Good for Lifting Weights?
I did one good, hard lift with One Sol pre workout, dosed at 1.5 scoops, taken 30 minutes before my workout.
After about 15 minutes, I really felt the beta alanine start to kick-in and that's when I knew it was time to get my butt to the gym.
I have to mention again here that the strawberry-kiwi flavor of One Sol pre workout was the best one, and the only one I took before my actual workout trials.
The lift that I did with One Sol was a super tough leg circuit that I found on YouTube – so I wanted to be sure I had enough energy.
I felt strong, energized, and felt like I had a plenty of energy to push me through.
I never felt jittery, or over-stimulated while taking this pre workout, which is a good thing.
Is One Sol Pre Workout Good for Cardio?
One Sol definitely performed better for weight-lifting than for cardio, which came as no surprise, since it contains a good amount of 'strength' ingredients, which we'll talk about in a second.
But I did end up trying One Sol before one of my longer runs that I do each week, and it was just okay.
I think because my running workouts are so long, that I sort of ran out of steam with One Sol, so I should mention that it is not the best pre workout for endurance workouts.
Overall it still helps you have a better workout than if you didn't take it at all, but, the point is that this pre workout is definitely better for lifting than running!
Let's talk ingredients now, shall we?
One Sol Pre Workout Ingredients
One Sol has a very standard roster of pre workout ingredients.
In fact, it's almost like an 'all-star' list of pre workout boosting ingredients all in one.
Here are the ingredients in One Sol pre workout:
Creatine Monohydrate
Beta Alanine
L-Citrulline
Peak O2
L-Carnitine
Coffee Fruit Extract
Caffeine Anhydrous
The most notable thing here is that One Sol kept things very simple when developing this pre workout formula.
There's nothing in here that is all that surprising.
I would have liked to see them use some more B-Vitamins in the formula, but that is just my personal preference.
It actually still gave plenty of energy, despite having only a modest amount of stimulants.
Speaking of which, let's talk caffeine.
How Much Caffeine is in One Sol Pre Workout?
There is 100mg of caffeine in each serving of One Sol pre workout.
I was surprised to learn that this was the dosage, because I swear it kicked almost equivalent to Ghost's Legend pre workout, which is one of the stronger ones out there.
That being said, let's move on to a packaging evaluation.
One Sol Packaging Looks Exactly Like Alani Nu's
Here's the thing.
One Sol clearly copied a LOT of what Alani Nu does/did from a branding perspective, especially before Alani changed some of their look and vibe.
It's going to be hard for some people to get over how similar it does look and feel to Alani Nu, but let's leave that aside for a second.
The one thing that One Sol does very well, is their bottle itself.
They use a sort of shimmery, rainbow plastic that I really enjoy.
The label design itself is rather boring, although very clear and easy to digest.
I would't say that One Sol packaging 'stands out' by any means, but it certainly has consistency across their whole product line, and their jars do look nice. I have to give them credit where credit is due.
So the looks are alright, but what about cost?
One Sol Pre Workout – Would I Buy it Again?
I think One Sol products overall are priced pretty fairly.
The pre workout is $40, but it's only 20 scoops per jar.
Back in the day, pre workouts were 30 servings per container, and now to see only 20, it's a little alarming, and means you are getting less for your money.
But even with that being said, One Sol is in-line with the prices of most pre workouts in the category.
I think it's a decent value at $40 per jar, and even better if you can find it on sale.
Where does that leave us with this product?
Let's summarize, and wrap up the One Sol pre workout review.
One Sol Pre Workout Summary
I found One Sol on Amazon, and after getting it confused with Alani Nu, picked up all four flavors of their pre workout to try
From a flavor standpoint, this pre workout is tasty enough, with the best flavor being the Strawberry Kiwi
I would stay away from the mango guava flavor, as it had a bitter aftertaste, and not enough fruit flavoring
One Sol pre workout works much better before weight-lifting workouts than other forms of exercise, and I would not recommend it for cardio
This pre workout has a good amount of creatine, and not very much caffeine, which it contains at just a 100mg per serving dosage
The One Sol pre workout packaging is supremely unoriginal, although it does feature a nice-looking jar
At 20 servings for $40, One Sol is priced about in line with other pre workouts in the category in 2023
The bottom line is that this pre workout is quite average across the board.
If you are just looking to try something new for the heck of it, then I'd say give it a go, and see what you think, but it didn't blow me away.*
Final Score:
Flavors: B
Performance: B
Ingredients: B
Packaging: C
Value: B
Overall Score: B
Latest posts by zapc0rionrexxx
(see all)