Wellious almond protein powder has lovely packaging (as we'll cover in detail later), but is it actually healthy?
And how does it taste anyways?
We'll find out all that and more in this Wellious protein powder review.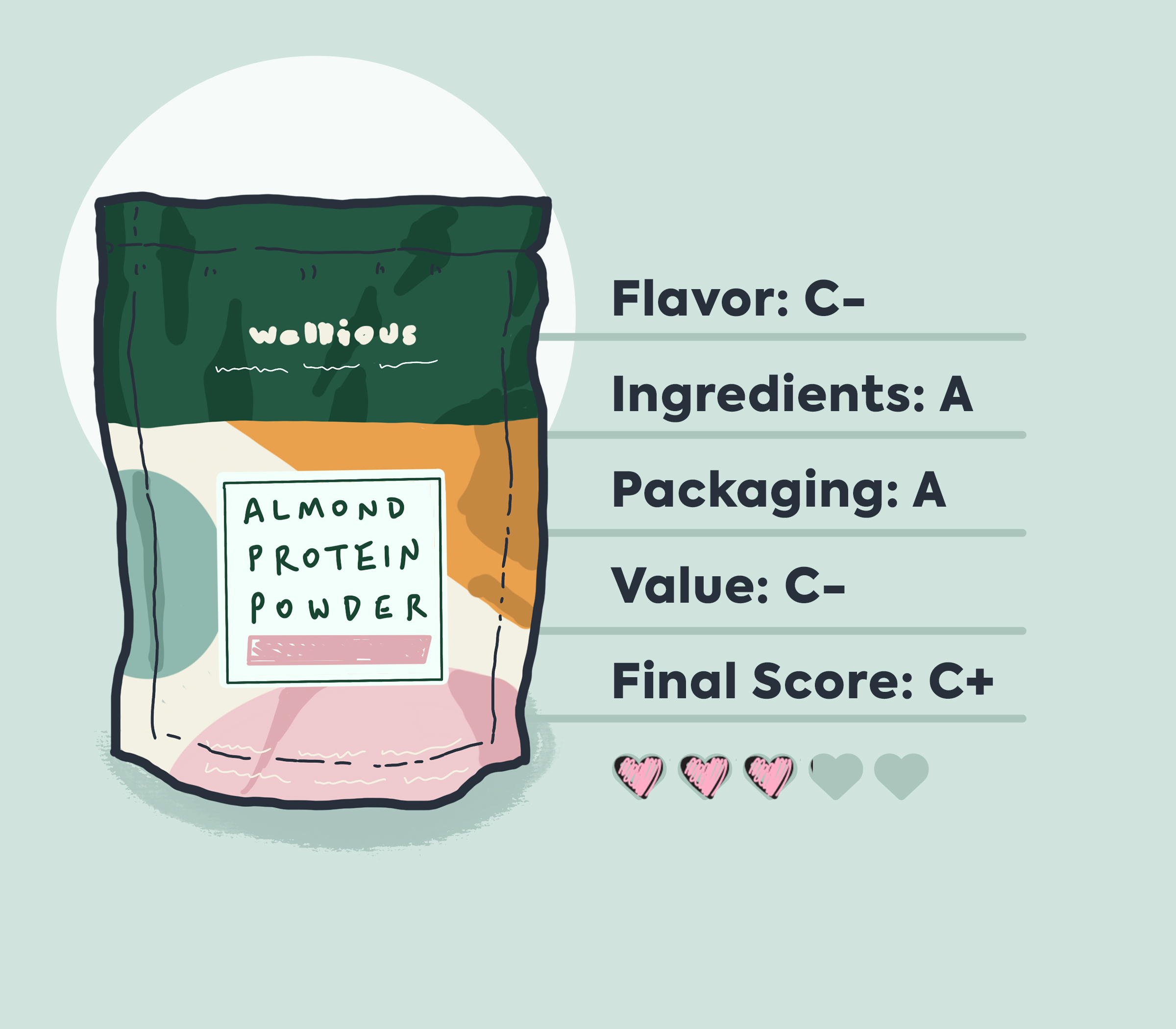 What to Expect in This Wellious Protein Review
Okay so you guys know I recently started doing more protein powder reviews again.
If you read my Ritual protein review from the other day, you know that I kind of follow a specific order of structuring my reviews.
The first thing I talk about is how I found the brand.
I find some brands on Instagram, some on TIk-Tok, etc.
And then some, like Hi! protein, get referred by a friend IRL.
After we talk about the brand a little bit, I go into the flavor, and how the product tastes.
Once we establish a grade for the flavor (including calling out the best flavor of each product), we talk about the nutrition facts.
I also talk about ingredients, supplement facts, and basically all the 'nuts and bolts' of each product.
The last two topics we cover are packaging, and value.
How the product looks, and how well it delivers for the money, are very important to me, and most of my readers.
So that's the rough outline we will follow in this Wellious review.
How I Found Wellious
I found Wellious on Amazon.
Yeah I know – that's not a super fascinating story, but it's the truth.
I've been buying my protein powder on Amazon more and more lately just because it's so easy and usually cheaper than anywhere else…
And while I was browsing, this brand popped up.
I can't really tell yet if they are going to be mostly an Amazon-exclusive brand or if they are going to be an actual brand as well…
But I noticed that they are an official Amazon launchpad product, which I think means that Amazon has given them a good head start or something.
Anyways, they seem to have some positive customer feedback so far, with an average rating of 4/5 stars, based on 66 reviews.
I decided to get both the chocolate and vanilla flavors so that I could compare them.
What's the Best Flavor of Wellious Protein?
The best flavor of the Wellious protein is the 'real vanilla'.
I tried both chocolate and vanilla, and found the vanilla to be a lot tastier because it reminded me most of a dairy protein.
The thing that you have to know about this almond protein powder first and foremost is that it is an almond protein.
We'll talk more about the ingredients next, but just know that almond protein has a very specific texture, that you may or may not enjoy.
My boyfriend and I tried mixing Wellious into almond milk, and the texture was still like borderline unbearable.
Wellious Protein Texutre is NOT Good
I have had some nasty protein powders in my day – believe me – but this texture was just not for me.
It was even grittier than the Ritual protein, and yeah, it was just hard to drink.
Once you get past the texture, the flavors themselves aren't all that bad, and the sweetness level is actually delicious, but it is hard to get past that gritty texture.
The vanilla flavor uses real Madagascar vanilla to flavor, along with real sugar, which I enjoyed greatly…
I didn't like it as much as the Truvani protein vanilla flavor, but it was still decent (and would be honestly really good if the texture wasn't so bad).
The chocolate flavor was not quite as tasty, because it just wasn't bitter enough.
Chocolate needs those sort of bitter cocoa notes for my palette to really enjoy it, and this flavor came up just short.
So if you are going to buy some Wellious vegan protein – make sure to grab the vanilla.
I know we talked a little about the ingredients already, but let's drill down a little deeper into what's in this protein powder.
Wellious Protein Ingredients
Wellious is definitely one of those 'squeaky clean' products that takes pride in using clean ingredients.
Heck, they even were bold enough to use 5 grams of real sugar per serving instead of opting for artificial or fake sugar alternatives.
Here is the full list of ingredients in the vanilla flavor:
Almond Protein
Chickpea Protein
Natural Vanilla
Dextrose (sugar)
Monk Fruit
With just five ingredients total, this is one of the most minimalist vegan protein powders that I have ever sampled.
The almond protein is providing most of the protein content in this product, and they also use some chickpea protein.
I have never tried an almond protein product in my life, but I think it is interesting to try some new protein sources.
Using real sugar is a pretty cool innovation that you just don't see as much anymore.
I know – using real sugar as an 'innovation' sounds crazy, but like, everyone just uses low-cal sweeteners these days.
The only downside of that, is that sugar does add some calories and carbs, but let's take a look at the nutrition facts and analyze them.
Wellious Almond Protein Nutrition Facts
Wellious does seem to have an interesting and unique formula, and the nutrition facts reflect that.
This product is slightly higher in calories than some other protein powders I've tried, due to the added sugar.
Wellious protein also features slightly less protein per serving than most proteins I've tried – delivering just 15 grams per serving.
Compare that to the Honest Earth protein, which has 30 servings – equal to TWO full servings of Wellious!
Here are the full nutritionals:
Calories 140
Total Fat 3g
Saturated Fat 0g
Polyunsaturated Fat 1g
Monounsaturated Fat 1.5g
Cholesterol 0mg
Sodium 0mg
Total Carbohydrate 11g
Dietary Fiber 6g
Total Sugars 5g
Protein 15g
As mentioned before, the thing that caught my attention first on the nutrition panel is just that Wellious does not have as much protein as some other products.
Some of the positives of the nutrition facts is that this vegan protein does not include ANY salt OR cholesterol…
So this is probably one of the best proteins for you from a cardiovascular health standpoint.
Maybe the most heart-healthy protein on the market, actually.
So that's super cool.
Speaking of super cool, I sort of dig the packaging that Wellious has.
Wellious Almond Protein Packaging Rocks
You guys know that I am a big packaging nerd.
I love the branding and design of these types of products, like, alot.
Wellious branding was clearly done by someone with some experience because from the color palette, to the fonts used, to the overall design itself…
Everything is very tied together, and intentional.
Not many brands in the protein, or supplement space in general for that matter, excel in the realm of branding and packaging, but Wellious does.
I love the colors used on the packaging.
There are two different bold shades of green, which invoke a sense of nature and natural-ness.
The product title and relevant information is really easy to find on the front panel, which is helpful.
They also make it clear what the main benefits of the almond protein is, right on the front of the packaging.
'Naturally Support Health, Heart, Digestion, Immune System, Skin, Bone Hair'
Reads right along the bottom of the front panel.
It does help the customer understand exactly how the product is beneficial.
So I will give them an 'A' on packaging because it really is both beautiful and user-friendly.
With it's nicely-designed packaging and thoughtful formula, there is still one important question…
Is Wellious Protein Worth the Money?
At first glance, the $32 price point of Wellious protein is not all that much.
I mean, under 35 bucks- that's not bad right?
It's not, at least until you consider the price per serving, and even more specifically, the price per gram or ounce.
When you do the math, since a bag of Wellious contains just 10 servings, and since each serving contains just 15 grams of protein per serving, you really don't get much bang for your buck here.
In fact, Wellious becomes one of the most expensive proteins that I've ever tried.
Given that the texture is sort of hard to get past, and how little they give you for the money…
I'm not sure that I'm going to be purchasing this product again, just given how expensive it is.
At the end of the day, the taste is really important to me, and I don't think I will even make it through the ten serving pouch of this stuff.
For that reason, this product gets a C+ for me on the value score.
Let's summarize our findings, and wrap this review up with a bow.
Wellious Protein Review Summary
The Wellious protein features almond and chickpea protein together, which makes for a rather unpleasant texture and taste
The vanilla flavor is the better of the two Wellious flavors, however, I don't think I would recommend it to a friend given the texture and cost
At well over $3 per serving, Wellious is one of the most expensive protein powders that I've ever tried
For it's few faults, Wellious does have some positives, including excellent packaging, and healthy macros with no salt or cholesterol
I would not recommend Wellious almond protein overall, just because I could not get over the texture
The bottom line with Wellious, is that basically I think there are better options out there.
Given the exorbitant cost, and the lack-luster texture, Wellious protein is a no-go for me.
Flavor: C-
Ingredients: A
Packaging: A
Value: C+
Final Score: B-
Recommended Reading
Latest posts by zapc0rionrexxx
(see all)