I've seen more and more Bub's Naturals reviews on my Tik-Tok lately and while it might not have gone viral quite the same way that the Bloom Greens has, I still wanted to give it a try.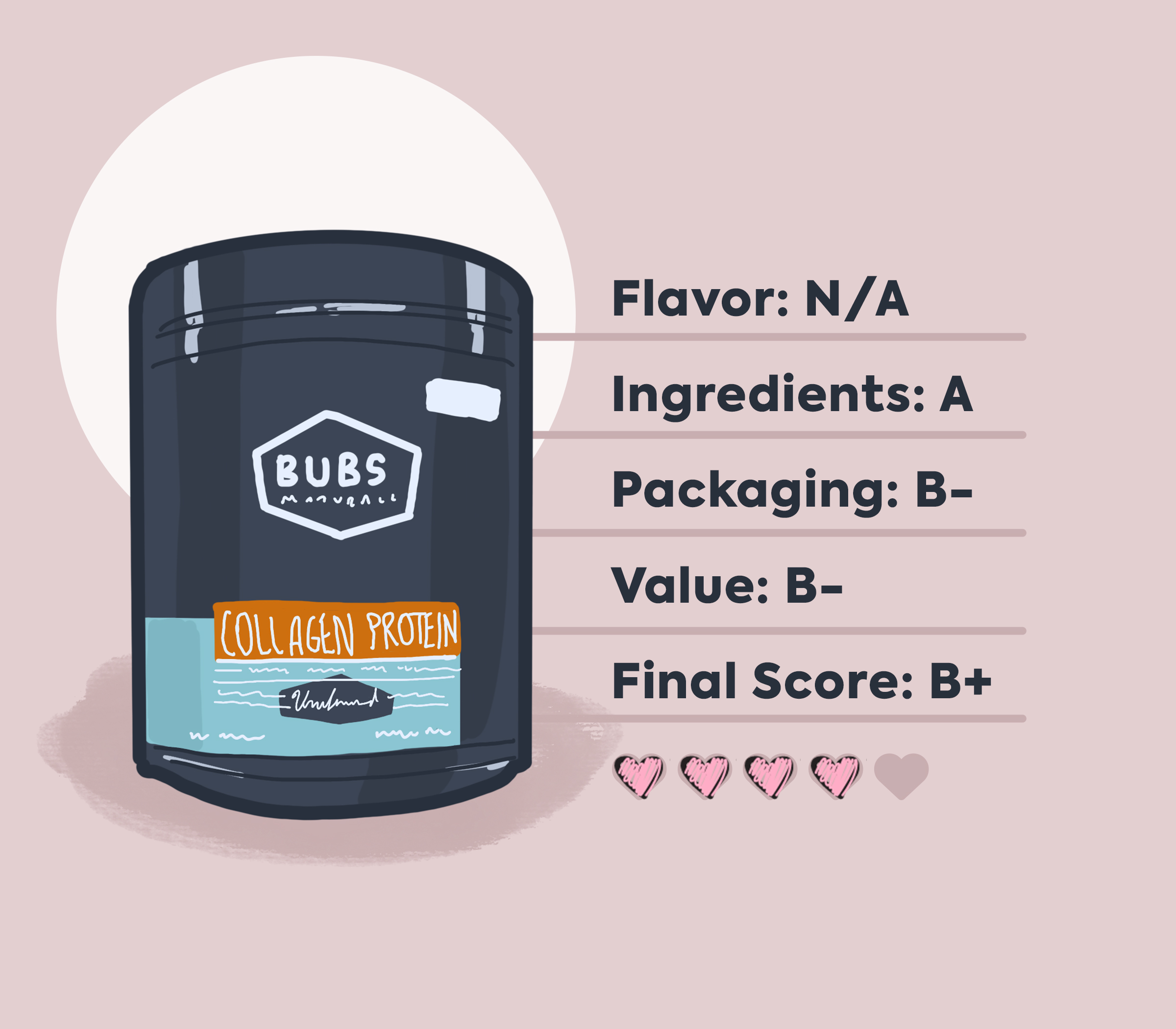 Also right off the bat – I love how the Bub's Naturals product gives back to the military.
Not too many companies in the nutrition space actually go out of their way to give back and stand for a cause, so that is a huge plus.
In this review, we are going to cover most of the basics of the Bub's Naturals collagen peptides and give you an honest review of how this product actually works.
Here's what we're going to cover in the review:
Sound good? Great. Let's dive right in starting with how I found the Bub's Naturals brand in the first place.
About Bub's Naturals & How I Found Them
Bub's Naturals is a really interesting brand, with a really interesting name.
I think I was first exposed to them at an event that I went to in the Spring where they were giving out some samples of their MCT oil powder.
I used MCT oil powder in some fun drinks like my bulletproof coffee because it helps support cognitive and brain function, and I like how Bub's Naturals makes it in a powder form.
Usually I use the oil version and well, it is kind of hard to use because it can spill and make a mess.
I also feel like the powder version gives me less issue digestively-speaking, if you know what I mean.
But that is how I found the Bub's Naturals initially – and I remember hearing the brand representative tell me the Bub's story, and how 'Bub' was a soldier who passed away.
Bub's Has a Real Cause
It is so refreshing to have a supplement brand give back in the way that they do, and it's just really easy to support a brand that actually stands for something.
When I did a little more research on them, I realized they have much more than just MCT oil powder – and that their most popular product is their Bub's Naturals collagen protein.
Right after I researched them, naturally I started seeing their ads everywhere.
That's just how it goes these days, right?!
I saw a handful of people reviewing them on Tik-Tok as well.
Everyone seemed to really love how the product performed from a perspective of improving skin moisture.
I was really excited to see if it would work the same for me, because I feel like my skin has been really sort of struggling this Summer with how hot it has been.
I ordered a tub of the unflavored collagen peptides and received them within just about 2 days, so the shipping is actually super quick.
My plan was to try it for 3 weeks and report back on how they performed for me, and that's exactly what I did.
Here are my thoughts after using Bub's Naturals Collagen Peptides for the past 3 weeks.
One of the first, and most important things you need to consider when choosing a collagen supplement is how well does it mix into coffee, or water, or tea, or whatever you want to use as your liquid.
This is often called the 'mixability' of a collagen or protein supplement, and it's the first thing you notice when you use these products for the first time.
Does Bub's Naturals Collagen Mix Well?
When it comes to mixability, I found this collagen to be really pretty good. I will say that I've had some collagen powders that tend to clump up, and take longer to fully dissolve.
Bub's Naturals thankfully was not one of those cases – this product dissolves really well no matter what you mix it with.
I was surprised to find that it even mixes pretty evenly and quickly in a cold beverage.
It has been SO hot this Summer that I've been mixing my collagen into cold iced tea (super into passionfruit green tea right now!).
Bub's Naturals makes a really nice 'Beauty Tea' power-up but it's really good in coffee too.
I know most of you take a morning coffee, so if that is your preferred morning drink, then Bub's Naturals is going to be a good fit.
Overall I will give Bub's Naturals a 9/10 on mixability because I think it really is excellent on that front. So the product mixes well…
But what about the taste?
What Does Bub's Naturals Collagen Taste Like?
I ordered the unflavored version of Bub's Naturals, so I was expecting that, well, it would taste neutral.
And while it is a mild flavor, I have to say that it does have a slight flavor.
All of these collagen products do have a very subtle, and light flavor, whether they want to admit it or not.
There is no such thing as a truly 'unflavored' protein powder, no matter what the packaging says!
So just keep that in mind.
Now for the trick part – does Bub's Naturals really work for your skin?
Does Bub's Naturals Collagen Work?
Everyone wants to know if these collagen products work.
It's the number one thing that you evaluate when choosing a collagen product, let's face it.
I've tried quite a few collagen products over the years.
I've used Vital Proteins, which is sort of the 'OG' in the collagen protein space (more on the Vital Proteins vs Bub's Naturals comparison later)
Sometimes I switch things up and use Obvi collagen, which is kind of like the kid sister of Vital Proteins because they have fun flavors and a slightly less technical formula…
But yeah – point being – I've sampled quite a few of these collagen products so I have a good baseline for how they should perform.
What surprised me about Bub's Naturals is that it really made a noticeable difference not only for my skin, where it did help, but mostly for my hair.
Worked Great for my Hair
I know.
Most of the time, the main benefits of collagen products are from how they help with skin health – whether it's elasticity, moisture, or reducing fine lines and wrinkles…
But with Bub's Naturals it is really the improvements in the quality of my hair that has blow me away.
It is fuller, which is the number one thing that I have been concerned about lately.
I have felt like my hair hasn't been quite as full as usual, and I haven't been able to figure out why, other than the fact that maybe I'm just getting a little bit older.
After 3 weeks of talking Bub's Naturals, I just feel like my hair is much fuller, and less fine.
It also feels more hydrated, and not as dry as it has been feeling.
Don't get me wrong, my skin has gotten better too – with less fine lines and more moisture than before, but if you are looking for the best collagen product for your hair, than this is the one for you.
Bub's Naturals gets high marks from me from a performance standpoint.
Let's dig into the ingredients and see what is in this product that gives it its potency.
What Ingredients are in Bub's Naturals Collagen?
The main ingredients in Bub's Naturals collagen are collagen peptides, and there really isn't much else in here.
I like how simple the formula is, and that there are not any added fillers or unnecessary preservatives.
Here's the full list of Bub's Naturals Collagen Peptide ingredients – ready? You might be surprised by it.
Collagen Peptides (from bovine collagen)
And that's literally it.
There are no flavoring ingredients – nothing to make it taste sweet or anything…
It's very, very basic, but some people like their collagen that way.
I don't mind the simple formula just because I often mix my collagen into coffee, so this way works perfectly fine for me.
Although I will say that sometimes I prefer something a little sweeter like the Obvi collagen when my taste buds needs something more interesting to taste.
You will notice that the collagen peptides in this formula are sourced from bovine, which is not always the case.
Sometimes companies use porcine (pig) collagen, which sounds sort of gross imo…
And then there is also fish-based collagen which is similarly 'ick'.
There are also some collagen products that claim to be vegan, but that's not possible, so those products are simply trying to boost your bodies' own collagen production through some vegan ingredients.
I don't recommend any vegan collagen products because in my experience they just don't work very well.
Now that you have a good sense of the formula, let's do a little comparison…
From the start, I was really curious how Bub's Natural's would stack up to the most popular collagen protein on the planet, which is of course the Vital Proteins collagen.
Bub's Naturals vs Vital Proteins
Bub's Naturals is certainly a much smaller brand than the behemoth of Vital Proteins, but would it be able to measure up when it comes to mixability, performance, and flavor?
After using Bub's Naturals for the past month, I can honestly say that it really does measure up, and it even surpasses Vital Proteins on some things.
I actually prefer Bub's Naturals when it comes to the performance for hair.
Bub's Naturals collagen peptides also mix better than Vital Proteins collagen.
Vital Proteins is cheaper, which I like, and it also might have a very slight edge when it comes to improving skin health, so there are some pros and cons.
My advice would be to try both, and then decide which is best for you long-term.
Bub's Naturals Collagen Packaging Review
Packaging should not be the determining factor in which product you choose, but I always enjoy writing them.
If you have been reading my content for awhile, you know that I am somewhat of a design nerd.
I love digging into the looks of these products whether it's the shimmery rainbow jar of the One Sol pre workout, or the bright blue pouches of the Hi! Cricket protein powder…I just love packaging!
Unfortunately, Bub's Naturals sort of let me down in this department.
Look.
I know that the looks aren't everything, and it's the product inside that counts.
And as I already explained, the product itself is actually really good.
But the packaging is a bit of a letdown.
You can tell that Bub's Naturals did not put a ton of thought, or effort into their packaging.
It is a boring, navy blue jar, with some very basic graphics on the front.
The worst part is that the graphics themselves are not very well-organized.
It's difficult to tell what the key selling points of this product even are.
It also seems very boy-ish to me, which is strange considering that many of the collagen buyers are female.
I'm not saying that they need to make their packaging look crazy girly or anything like that, but a little bit of color goes a long way.
Just my two cents.
So I'll give them a somewhat lackluster grade of B- on packaging, but other than that, I genuinely love this product.
Let's summarize.
Bub's Naturals Collagen Peptides Review Summary:
Bub's Naturals makes a variety of different products ranging from apple cider vinegar gummies, to their most popular products which are MCT Oil Powder, and unflavored Collagen
The company gives a percentage of their proceeds to charities that support military veterans and helps get them jobs after their years of service, which is an amazing cause
The unflavored collagen peptides from Bub's Naturals worked really well for my hair – making it fuller, shinier, and stronger. It also worked a little bit for my skin and helped moisturize it
From an ingredient standpoint, this product features bovine collagen peptides, and no other flavoring or additional ingredients. It's a very, very stripped-down collagen formula
When it comes to comparing Bub's Naturals to the iconic Vital Proteins product – I would say that Bub's is better for hair health, while Vital Proteins is better for skin health. Vital Proteins is also much cheaper than Bub's.
Final Score:
Mixability: 9/10
Flavor: N/A
Value: 8/10
Packaging: 7/10
Final Score: 8.5/10
Recommended Reading:
Latest posts by zapc0rionrexxx
(see all)